My Love Affair With New York's Market Forces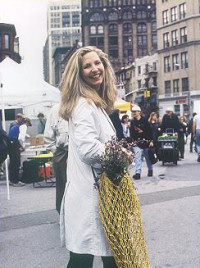 September, 1998, I went to New York for a week's holiday and began a new life instead. I could say it was all due to my decision to write a book that has an American theme. But the libraries are just as good in Britain. The truth is, on my second day I met a very nice man. A year later he asked me to marry him and I moved to Manhattan.
I'm not sure I believe people who say they love moving around. Plants don't like to be uprooted, so why should human beings? I was very frightened to leave my home in London. The strangeness of everything, and my ignorance of New York, filled me with anxiety. However, now that I have been here for some time, not only have my fears gone but I have discovered an interest that rivals my love for history. I always liked to cook, but it's turned into a passion. I read cookbooks as if they were novels, trawl little speciality shops, and spend hours experimenting in the kitchen. It is as though I have learned a new language and want to practise it all the time.
It all began shortly after we left our temporary accommodation off Times Square and moved to Greenwich Village. (Only then did I realise we had been living in the equivalent of Leicester Square. I had just assumed that New York was a very crowded place with lots of people playing steel drums at all hours of the night). My fiancé and I had agreed it would be fun to have the New York experience. A high-rise apartment, preferably with a view, was the aim, or maybe a large-windowed loft. Instead, after weeks of looking, we settled on a converted attic in a 19th-century brownstone house, on the borders between Chelsea and the West Village. There is a sweeping magnolia tree out front, and a wisteria climbing up the back; even the many flights of stairs have a picturesque feel to them.
By contrast to mid-town, the Village is peaceful and pretty, with tree-lined streets and cobbled roads. Most of the houses are Victorian with high stone stoops that lead up to the front door on the first floor. In the evening, when the lights come on, it is a treat to peek through the tall parlour windows and see the ornate ceilings and carvings. However, one of the main reasons New Yorkers so love the Village is its high proportion of first-rate restaurants. There are one or two on every block. It is almost impossible to have a bad meal in this part of the city. I gained about half a stone during my first three months here – it took me a while to realise that an ordinary helping in a New York restaurant is about twice the size of an English one, and that I should pace myself accordingly.
I suppose this constant exposure to find cooking made me think more seriously about food. But it was not until my fiancé and I stumbled into the farmers' market in Union Square that my interest turned into a love affair. It was such a surprise to discover an open market in the middle of Manhattan I've since learned there are several, although Union Square's is the biggest and best. It is huge, bustling and seductive.
On Saturdays it is packed with New Yorkers inspecting the organic produce from family farms in upstate New York. The sweet smell from the fruits and flowers rises above the heat in the summer and transforms the city landscape. Here you can buy blue corn (for making blue corn tortilla chips) by the fistful (it's very strange in appearance, the corn actually looks blue-black), organic sorrel, dandelion leaves and freshly picked rocket. We walked past stall after stall, amazed by the vast choice of home-made jams, cheeses, pates, pies and breads.
I felt too daunted to buy anything the first week, but the next Saturday we arrived with a large, empty shopping bag. The scrum of New Yorkers at the fresh vegetable stalls looked so unpleasant that we ended up buying funny little things like horseradish jelly and spicy jalapeno jam. Now I don't mind entering the scrum; the hard part is getting the stallholders' attention. I think I am still too English in my habits and I can't bring myself to jostle.
The jalapeno jam sat unopened in the kitchen for a long time. Finally, I asked the stallholder for his advice. He rolled his eyes and said something which sounded like "marinade". Of course! Adapting an old recipe from Donna Hay that uses harissa and mustard, I covered two lamb chops with the jalapeno jam, adding lots of fresh rosemary, crushed garlic, salt and ground pepper. They came out of the oven pungently flavoured with a sweet and hot aftertaste.
That day – and meal – changed my feelings about New York. Until then I had liked the city but I could not see how it would ever replace the longing I felt for home. Finding the farmers' market, with all its unfamiliar produce, made me want to be adventurous. It started with buying native vegetables, like spaghetti squash and fiddlehead fern.
I bought a cookbook on American cuisine and discovered that there is one. It varies from region to region, of course, being creamier in the South, spicer in the Southwest, healthier in the West, and more fishy in the North Using the ingredients in the market as my template, I learned how to make such native dishes as Cornish game hen with fresh lavender and thyme, clam chowder, and grits with tasso (Cajun smoked sausage). The grits tasted bland and gloopy to me, but the Cornish game hen was amazing. It's probably easier to obtain poussins in Britain, and I'm sure the only difference is the size, Cornish hens being smaller. I cooked them for four using a recipe I found on the internet.
Once I developed more confidence I branched out into the cuisine of New York's myriad ethnic communities. The whole world is represented here: every immigrant enclave has its own restaurant and speciality markets. The trick is knowing where to find them and what to buy. It took me five months before I came across Kalustyans on the Lower East Side. We happened to notice the store because there was an unusually long line of taxis parked outside. (The majority of immigrant cab driver are Indian). We looked inside and discovered every condiment, herb and spice known to cookbooks.
Kalustyans is divided into countries, starting with India on the left and finishing with Malaysia on the right. It also makes up the kind of spice combinations that housewives would normally buy in a souk or from a spice merchant. Baharat, for example, is a sweetish Kuwaiti blend used in meat pies. Ras El Hanout, meaning "head of the shop" because it consists of a bit of everything, is a savour blend used in Moroccan cooking. To give your lamb shanks a really deep flavour, add half a tablespoon per shank to the casserole. One of my favourite lamb shanks recipes has the lamb baked for an hour and a half in Ras El Hanout, beef broth, red wine, plum tomatoes, onions, raisins, garlic, cinnamon, fresh sage, fresh mint, a pinch of cayenne pepper, and two tablespoons of pomegranate molasses. For those who don't live in New York, the shop has its own website www.kalustyans.com and will ship the above ingredients anywhere.
Nowadays, if I want instant gratification, I go to Balducci's, which is just four blocks from me. I will pop in to buy some olives and come out two hours later. Balducci's started out 50 years ago as an Italian supermarket, giving its customers the best-quality meat and vegetables in Manhattan. Unlike Kalustyans, it is like a chaotic food bazaar, selling everything from organic duck eggs and the aforementioned pomegranate paste, to private plantation tea. It is always packed with people, yet the staff know me quite well now. Often the floor manager will catch me gazing thoughtfully at the vegetables and he'll try to guess what I'm cooking from the ingredients in my basket. Even more often, he will wave at me as I return to pick up the meat I accidentally left at the counter.
I have been a loyal customer of Balducci's ever since New Year's Eve. There was a queue outside which went all the way around the block. I fought my way in and was immediately swept up by the buying panic, emerging with three heavy bags of useless stuff, plus two geese.
I had never expected to be cooking dinner for 16 people on New Year's Eve. We had been here for so short a time that we decided not to worry about parties or events and spend the evening by ourselves, cooking our favourite dishes. But about four days before the 31st the phone began to ring. It was friends whose plans had changed, or who had lost their baby-sitters and know we are child-friendly. Two even called from London.
I decorated the apartment with ivy garlands while my fiancé ran out to buy some folding chairs. That night turned out to be one of the happiest I can remember. Everyone arrived in black tie, we ate ourselves silly, turned on the TV to see Times Square, and then pushed back the furniture to dance to the greatest hits of the 1980s.
As for the geese, however, two would not fit in our tiny oven. I ran back to Balducci's, struggled against the tide to reach the poultry section and asked to give one back. "Nonsense", said Steve, "just road one and poach the other on top of the stove. You will never want to roast a goose again". He was right. Believe me, it's much easier to poach a goose – as long as you have a very large lidded casserole. And there is little danger of getting an undercooked or overdone bird. Furthermore, it is so tasty. Once again, the internet provided me with a recipe, which I adapted (see below).
I think the geese made the evening for me. They were very traditional on a night when most of our thoughts were about the future. I strayed from the path, however, by accompanying the birds with truffle-oil mashed potatoes. It was extravagant, especially as I bought the oil from New York's finest gourmet market, Dean & Deluca in SoHo. But I had stopped caring about expense. I was in the mood to feed the whole of New York.
There are probably many explanations as to why food has become such a cult in America. The abundance of choice has no doubt had an effect. Also, the prodigious efforts of the James Beard Society to educate the American palate and raise standards has helped to transform the restaurant world. Named after the father of American gastronomy, it is wholly dedicated to the culinary arts, both professional and at home. Anyone with an interest in food can join. (By happy coincidence, we live next door to the HQ, James Beard House, where famous chefs come and present their signature dishes). The winners of the James Beard Cookbook awards are guaranteed to become best sellers, while the chefs are made for life.
Living among so many enthusiasts, perhaps it is no wonder that I too became inspired. When not at work, I wander through the city's lesser-known streets, popping in and out of their stores with purchases I may or may not use.
Although history is my first love and profession, cooking now comes a close second. Being here, exposed to so many different kinds of cuisine, has changed my perspective. Just as all singers want to be actors, and all journalists dream of writing a book, I now fantasise about become a chef. In any case, when I return home, the love of cooking is the one thing I will take with me, and will stay with me fore ever.
POACHED GOOSE
1 goose, 4-5kg/9-11lb, giblets, neck and little wing joints removed
3 tbsp goose fat
6 carrots, chopped
2 large onions, chopped
3 celery sticks, chopped
3 cloves garlic, chopped
6 tbsp white flour
1.35l/2pt 8fl oz chicken or veal stock
450m./16fl oz dry white wine
1 tsp mustard powder
6 cloves
1 tin or jar of pitted prunes, plus
250ml/9fl oz of the liquid
flat-leaf parsley
fresh coriander
2 large bay leaves
salt and pepper to taste
50g/2oz dried porcini mushrooms (soaked and chipped, liquid reserved)
1 tin of cooked chestnuts, drained
4 tbsp armagnac
2 tbsp redcurrant jelly
a very large lidded casserole
PULL OFF any bits of fat. Wash and pat dry the goose. Get a rack that will fit in the casserole. Place some parchment paper on it, then the goose (breast-side down). IN A LARGE frying pan, heat the goose fat until melted. Saute the giblets, neck and little wing joints until they start to brown. Add the vegetables and garlic. Stir-fry for 8 min or so. Sprinkle on the flour and continue cooking until brown. POUR THE STOCK and wine into the casserole and bring to a boil Add the contents from the frying pan, along with the mustard powder, cloves, prune juice, a few sprigs of parsley and coriander, and the bay leaves. Season. Pour in enough water to cover most of the goose. Bring to a very gentle simmer and cover. HEAT THE OVEN to 230 degrees C/450 degrees F/gas mark 8. Remove the goose from the casserole, discarding the paper and reserving the poaching liquid. Put goose and rack in a shallow roasting pan, breast side up, and cook for half an hour. It will be succulent and crispy.
FOR THE SAUCE: while the goose is roasting, skim the poaching liquid and strain it through a colander into a large saucepan. Remove the goose bits from the colander and puree the rest, adding it to the large saucepan. Bring to a boil and reduce by half.
NEXT, ADD the porcini and their liquid, the prunes, chestnuts, armagnac, and redcurrent jelly. Stir until it's nicely integrated. Taste and check the seasoning.