You shall go to the ball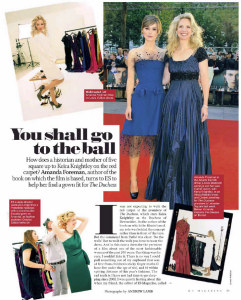 Download here  

I was not expecting to walk the red carpet at the premier of The Duchess, which stars Keira Knightley as the Duchess of Devonshire. As the author of the book on which the film is based, my role was behind the concept rather than in front of the lens. But the command from Pathe was clear: 'Do the walk.' But to walk the walk you have to wear the dress. And in this case a dress for the premiere of a film about one of the most fashionable women of the past 200 years. One thing was for sure, I couldn't fake it. There is no way I could pull something out of my cupboard that was a) free from children's sticky finger marks (I have five under the age of six), and b) within spitting distance of this year's fashions. The sad truth is I have not had time to go shopping since 2002. I was quietly fretting about this when my friend, the editor of ES Magazine, called to enquire what dress I was wearing. I was saved. The voice on the phone was like a fairy godmother's: 'You shall go to the ball, Cinderella. You will go to Jasmine Studios, Shepherd's Bush Road, on Monday at 8.30am and your stylist will be waiting for you.'
What difference does a stylist make? The answer is, for most people, the difference between fabulosity and monstrosity. For a cautionary tale of gowns and hubris, remember the 'dress malfunction' of Gwyneth Paltrow. In 1999 she wore the now famous pink silk Ralph Lauren gown to the Oscars. Fashion accolades followed and Paltrow was hailed as one of the best dressed women in America. She became the reigning queen of slim blondes everywhere. Three years later, Ms. Paltrow decided that she no longer required the services of a stylist and dressed herself to the Oscars. The result? The notorious see-through Alexander McQueen Goth dress. The gown's sheer top displayed her assets, which were sagging as precipitously as her reputation. The fall-out from her lapse of taste and good judgement is still floating around the internet.
I therefore jumped at the chance to be styled for The Duchess premiere by the celebrated Gianluca Longo, style director of ES. He was about to leave for Milan but agreed to squeeze me in for a morning's session before going off to style a Ricky Gervais shoot. He was charm itself but also immensely practical, having arrived at the studio with three racks of gowns. One of them would surely fit around the mother of five.
In The Great Gatsby, Jay Gatsby's vacuous love interest, Daisy Buchanan, bursts into tears at the sight of his beautifully pressed shirts. I'm not sure what that says about me since I, too, had a similar reaction on seeing so many beautiful gowns all in a row. Children locked in sweet shops had nothing on me.
The stylist's task is to match the inner and outer beauty. As Gianluca explained to me in his delicious Italian accent, you cannot simply put a woman in the latest McQueen if it makes her feel ridiculous. What followed was arm imitating life, or vice versa. I tried on a black Julien Macdonald outfit – all Bette Davis on top and The Black Dahlia on the bottom. Fine for someone tall, dark and skinny – Tara Palmer-Tomkinson, perhaps – but humiliating on me.
'No, no, no,' dismissed Gianluca. He peered at me through his glasses. 'You are classical. You need this' – he grabbed an emerald green one-shoulder gown from Escada – 'and these…' chunky gewellery by Pomellato. But as I stood in front of the mirror feeling like a Grecian goddess, he was shaking his head. 'You can't wear it,' he told me. I was incredulous. 'Why not?' Patiently he explained that looking good was not the same as looking absolutely right for the occasion. A stylist's task is to marry the body, the dress and the event for a perfect happily-ever-after.
I tried on three more. Like Portia's suitors, each one suffered from a defect. I loved the green Alberta Ferretti dress; if only I was going to a cocktail party rather than a premiere. Too short, too tight, too complicated. He sent me to the changing room to try on a Diane von Furstenberg black jersey dress while he scoured the rack for the perfect 'perfect-dress'. While I changed I could hear intriguing snatches of gossip between the assistants: 'He arrived on the set stoned, every single day,' 'She was completely paranoid. Checked every take and even brought her own wigs!' Who? Who? I thought.
Back in front of the mirror, Gianluca slipped a 26ct diamond ring on my finger. Then he put a diamond necklace with a drop the size of a quail's egg around my neck. I was now worth over a million pounds. I suddenly noticed movement at the back of the room. Seated in a line were four people watching me intently while occasionally pausing to write notes. It was as though I was being auditioned for Britain's Got Talent. I was completely mystified. 'Who are these people?' I asked Gianluca. 'Why are they watching me?' 'They aren't,' he replied. 'They are guarding the jewellery.' He turned me around. This dress wasn't 'the one' either. 'There has to be chemistry,' he explained. 'Like room-mates.' He grimaced when he said the word. I discovered later that Hamish Bowles, European editor at large of American Vogue, was staying with him. In just three days he had managed to leave a ghastly trail of spills and broken furniture. Not to mention doors unlocked and windows open during a thunderstorm. Gianluca was counting the minutes to Mlan.
He lifted a midnight blue Alberta Ferretti dress from the rack. My heart beat faster. We looked at each other. 'It is you,' he said simply. I reached for the jewellery but he shook his head. The million pounds of rock were staying in the box. Like a kung fu master teaching his young pupil, Gianluca gave me a lesson on how to apply jewellery to a gown so that it complements rather than steals the show. He chose a pair of Leviev earrings whose shape echoed the cut of the dress. He was, of course, completely right.
I looked in the mirror. I was me. But a better me. George Eliot once wrote: 'It is never too late to be the person you could have been.' I am not sure. But with the help of a stylist, it is never too late to appear as the person you would like to be.
Copyright© 2008 Amanda Foreman