David Starkey swipes at 'pretty girl' history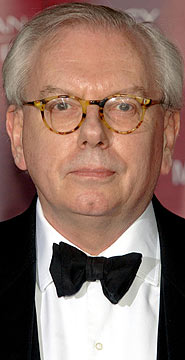 HE famously enjoys his reputation as the "rudest man in Britain". Now the historian David Starkey has poured vitriol on his female competitors, likening their books to "historical Mills & Boon".
The broadcaster and writer, whose speciality is Tudor history, says patronisingly that women who write history books are "usually quite pretty" — and eager to show off their looks on their book covers.
His attacks on female historians come despite him making his name with gossipy television series such as The Six Wives of Henry VIII.
Speaking in a television interview with the broadcaster Laurie Taylor, Starkey, who has attracted mass audiences with his documentaries, lumps together most female historians as having names that "usually begin and end with A".
The A-list of female historians with whom Starkey has picked a fight hit back this weekend.
"There's something clearly wrong with a male historian whose name begins with a D and ends with a D," said Amanda Foreman, whose acclaimed book Georgiana, Duchess of Devonshire, based on the life of an 18th-century aristocrat, was turned into a film starring Keira Knightley. "He seems to be incredibly upset by women historians and probably feels under-appreciated."
Foreman, whose book on the American civil war will be published in October, did, however, give some support to a man she sees as beleaguered. "I'd just like to place it on the record that he's a first-rate historian," she said.
Another Amanda, this time Amanda Vickery, professor of history at Royal Holloway, University of London, was also bemused by Starkey's remarks in the series In Confidence, to be shown on Sky Arts later this month.
"It can only be envy as he can be charming face to face," said Vickery, whose most recent book was Behind Closed Doors, a history of the home in Georgian England. "He was very flattering about my research when I was on a panel with him and anxious to ally himself with those of us who slave away in the archives."
Vickery, who made A History of Private Life, a 30part series for Radio 4, was intrigued by Starkey's reference to "pretty" women.
"Who knew that David finds me attractive? Maybe he has a secret weakness for feminists?" she said.
Another A-lister, Antonia Fraser, widely regarded as the doyenne of historical biographers, was also bemused. "I'd like to point out that David wrote a very nice line which went on the front cover of a new book on Mary Tudor by a young historian, to whom I happened to give a prize very recently," said Fraser, who has written biographies of Mary Queen of Scots and Oliver Cromwell.
"Starkey called it 'an impressive and powerful debut'. The writer's name is Anna Whitelock and I think Anna happens to begin and end with an A."
This is not the first attack by Starkey, 65, on "feminised" history. Last year he accused women of turning Tudor history into a "bizarre soap opera" by focusing on Henry VIII's personal life rather than the power politics and religious conflict of his reign.
The historian, who has taught at Cambridge and the London School of Economics, also discusses in the programme how "much of academic life is a desiccation. I think it's one of the reasons why academics are so often such very bad judges and make such hideous mistakes, but they don't and won't embrace a full humanity".
Starkey, an honorary fellow at Fitzwilliam College, Cambridge, is a lover of good food and wine and argues in the interview that "the cultivation of academic poverty has been very, very dangerous".
Starkey also discusses his own life at length. He describes how, as a child, he was "born quite badly crippled", with a "double club foot".
The historian, who has long been openly gay, is dismissive of civil partnerships, although he has been with the same man for 15 years. He says: "I find the whole notion of private relationships receiving public gratification an awkward one. Really it is simply receiving a public pat on the back for what you are. I have little patience with that."
Copyright© 2010 TIMESONLINE