Ahead of her time
American pens story of a free-living 18th-century Duchess
By Fritz Lanham
Houston Chronicle Book-Editor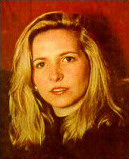 Yes, biographer Amanda Foreman agrees, laughingly. These people were different from you and me. For one thing, they lived on a different schedule, rolling out of bed at 1 or 2 in the afternoon and supping at midnight. That followed the hours of music, drinking, and high-stakes gambling – lordy, such gambling – before bedtime at sunup.
They were rich, they were politically powerful and their love lives require a chart to fathom. For a time the women sported hairstyles so preposterously tall as to make Marge Simpson's look like a buzzcut.
These people were the family and friends of the flamboyant 18th-century English aristocrat who is the subject of Foreman's much-praised biography. Just released in paperback, Georgiana, Duchess of Devonshire. (Modern Library $15.95), won Britain's prestigious Whitbread Prize and was named a New York Times Notable Book.
It is also a best seller, a remarkable achievement for a 454-page volume that began life as a doctoral dissertation at Oxford University. The 32-year-old Foreman brought a bad cold and undiminished enthusiasm for her subject to Houston last week for a reading at Brazos Bookstore.
Georgiana was born in 1757 into the wealthy and aristocratic Spencer family (Princess Diana was a descendant) and died relatively young, in 1806 at age 49. But such a life she packed into those years.
In 17774 she married the reticent and emotionally needy fifth Duke of Devonshire, one of the wealthiest men in England. Theirs was a complex relationship, centred in the early years on the imperative of producing a male heir, which Georgiana, after giving birth to two girls, delivered in 1970, to the immense relief of all.
Both marital partners had lovers, Georgiana was rumoured to have had an affair with the brilliant, dissolute Whig Party leader Charles James Fox, but the politician Earl Grey seems to have been the love of her life, she had a child by him.
For two decades the impecunious Lady Elizabeth Foster (Bess) lived with the duke and duchess in a sort of ménage a trios. Georgiana was deeply attached to her – Foreman thinks it "entirely possible" they had a brief sexual relationship. Like the duke, Georgiana was an emotionally needy person.
Later – without severing her friendship with Georgiana – Bess became the duke's mistress and bore him a daughter and perhaps a son (the paternity of the latter remains in doubt).
As a young matron Georgiana was doyenne of the fast-living social set whose headquarters was Devonshire House in London. She introduced the big-hair business in the 1770s, a fad lampooned in prints of the era. She was addicted to gambling and lost stunning sums, which put her in debt for the whole of her adult life and poisoned her relationship with the duke, to whom she lied repeatedly about the matter.
But Georgiana was a party animal in a higher sense as well. She was an effective adviser to the Whigs, the parliamentary faction opposed to King George III and allied with his estranged son, the feckless and contemptible Prince of Wales.
In a crucial election in 1784 Georgiana campaigned publicly and effectively for Fox, going far beyond the role women had previously played in political races. She incurred savage attacks for her willingness to get out and mix it with the common people. Satiric prints commissioned by opponents depicted her in the greasy embrace of butchers, bakers and candlestick makers, trading kisses for votes.
Near the end of her life, despite an eye disease that left her three-fourths blind, she worked behind the scenes to help engineer the Whig's rise to power in 1806.
These people were different from you and me.
Foreman sounds as British as the queen but is in fact an American, the daughter of an English mother and an American father, Carl Foreman, the blacklisted Hollywood screenwriter (High Noon) who moved across the Atlantic for several years. Amanda Foreman spent part of her girlhood in England and returned there later for boarding school – hence the accent. She now lives in Greenwich Village.
She came across Georgiana's letters in 1993 while doing research on a dissertation on British attitudes towards race. She was captivated by the "clarity of the voice" she heard in those letters, a voice at variance with the image of an airhead conveyed in histories of the period.
"They're just so poignant and intelligent and funny and immediate", Foreman said in an interview before reading. "I thought, my goodness, there's been a historical con job here".
She switched dissertation topics.
Initially, she simply wanted to discover the truth about this woman she felt had been traduced. As she learned more about Georgiana she was impressed by her skill at political wheeling and dealing.
"As a person, what grabbed me was this amazing painful honesty, even when she was destroying herself", Foreman says.
"Amazing" is the word Foreman uses more than once in describing Georgiana's life, which exhibits that rise-and-fall-and-rise pattern usually reserved for heroes of film and fiction. The fall came with her three year exile on the continent after giving birth to Grey's child. That was followed by the eye infection and horribly botched operations that disfigured her once beautiful face.
But by her early 40s Georgiana had pulled herself together, Foreman says. She had embarked on a self-education proves – mineralogy was one of her interests. She finally freed herself from the addiction to gambling, though not from debt. She returned to advising Whig politicians. Foreman goes so far as to say Georgiana "saved the Whig Party from collapsing" at four crucial times.
And then, suddenly, she died. Of an abscessed liver.
Her death devastated the duke. So he married Bess. And cheated on her.
Bess – "grafter, courtesan and destitute wife of an Irish MP", as Foreman describes her at one point in the book – is one of the more fascinating characters in the story. To maintain her place she employed charm, flattery, sexuality and a shrewd sense of how to satisfy others' psychological and emotional wants. Foreman thinks she was the linchpin of the Devonshires' marriage, that paradoxically it was the husband and wife's mutual attachment to this third party that kept them together.
"I have this sneaking admiration for Bess, don't you?" Foreman says.
The success of Georgiana, Duchess of Devonshire can be attributed in part to the inherent juiciness of the subject matter, which, as the author admits, has a People magazine appeal. But Foreman also writes well. She gives the narrative speed and energy on the one hand and density of fact and incident on the other. Georgiana belongs on that rather narrow shelf of books that are both serious history and rollicking good reads.
A BBC radio play based on the book will air in this country on National Public Radio in April. Foreman says she didn't work on the script but admires the result.
Meanwhile she's at work on a booked titled American Cousins, about the British volunteers who fought in the American Civil War. They fought on both sides, out of motives ranging from the purely idealistic to the purely mercenary.
Foreman seems to have found her stride.
"Graduate school stank", she says, "but writing this book was fun".
Copyright© Houston Chronicle