Amanda Foreman Interview by The Daily News With a single photo, an American scholar has created quite a stir in Britain: BY ELLEN TUMPOSKY in LONDON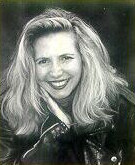 Writing about the first media celebrity has made biographer Amanda Foreman something of a celebrity herself, and she's still reeling from the experience.
Foreman, 31, is the author of "Georgiana, Duchess of Devonshire" (Random House, $29.95), a biography of Georgiana Spencer, an 18th-century British aristocrat who was Princess Diana's great-great-great-great aunt.
It has been a best seller and winner of the prestigious Whitbread Biography Award in Britain.
"Georgiana" (pronounced "George-jayna") was the oldest daughter of the first Earl Spencer (Diana's brother, Charles, the current Earl, is the ninth Spencer to hold that title). She was just 17 when she married the enormously powerful and wealthy Duke of Devonshire, a man as reserved as she was high-spirited.
He didn't let marriage interfere with a longstanding affair leading one observer to note the paradox that the Duke of Devonshire was the only man in England not in love with the duchess.
Georgiana, who lived from 1757 to 1806, dominated London society roughly during the time of the American Revolution. She was a popular figure, loved for her charm and ability to connect with the masses.
The British press soon noticed that reports on her dress and activities increased sales. She became a trendsetter, whose hats and dresses were copied by women around the country. The parallels to Princess Diana are striking, as Foreman acknowledges. "Georgiana's whole life struggle is to claw back her sense of self and detach herself from the publicity she had been generating," says Foreman. "She substituted applause for a sense of inner happiness."
Reading from her diaries, "You can watch this descent into madness, into drinking, gambling, bulimia…
"She was all heart, she was like a huge wounded beating heart, with very little skin covering it."
Foreman never expected her book on a pioneering celebrity to land its author in the tabloids but that was before she agreed to pose nude for Tatler, a British society magazine, with her private parts artfully concealed behind a tower of books. "I never gave it a moment's thought except for the fact that I couldn't believe at age 30, anyone was interested in taking a picture of me without my clothes on. I thought it was hilarious," says Foreman, sitting in the living room of her cozy London house, where a copy of the notorious photo is displayed prominently. She was staggered at the reaction in the British press. "It was like I had betrayed my genre of biography," she recalls. "What am I doing, taking my clothes off and being frivolous?"
But then Foreman is not your typical biographer.
The daughter of an English mother and an American father Carl Foreman, who wrote "High Noon," "The Guns of Navarone," "The Bridge on the River Kwai" and many other films she was born in London after her father was blacklisted during the 1950s.
In the mid-'70s, when Hollywood began to welcome back the victims of McCarthyism, the family returned to Los Angeles. But Foreman was nostalgic for England and pushed to attend boarding school there at the age of 10.
"It was just hell. I could not have been a bigger fish out of water, Americanized, Hollywood, with these girls who were children of English colonels and farmers' daughters. I had this sign on my forehead that said "Bully me and it didn't leave until I was 18."
Her grades were so bad that 25 colleges in America and Britain rejected her, but the 26th Sarah Lawrence in Bronxville said yes and changed her life. She thrived in college and came to Oxford to do graduate work. Researching attitudes toward race in 18th-century London, she was reading a biography of the English politician Charles Grey and encountered Georgiana, Grey's lover after her marriage.
Foreman says she herself was madly in love with two men at Oxford at the time and identified with Georgiana, who was living with the duke but desperately in love with Grey. "I thought I needed to find out more about her and how she resolved her own situation," she explains.
Once she passed her driving test (after six failures), Foreman began to track down Georgiana's history in trips to English stately homes like Althorp, the Spencer estate where Diana lived as a girl, and Chatsworth, still the family seat of the Duke of Devonshire. She became obsessed with the Duchess. "I dreamt about her every night; I had imaginary conversations with her. There wasn't room for anybody else then. I just assumed that would be my life."
But when she met an English banker working in New York, "it was like someone turned the lights on." They are now engaged and live in Greenwich Village, with Foreman travelling every month or so to London.
She loves New York, but has a strong tie to England, which welcomed her father when America shunned him.
Her father, who died when she was 16, is an overwhelming influence. "When I was about 12, he approached me with a history book and said, 'I'd love you to read this book." She rebelliously refused, but now says, "He was planting these seeds, hoping that if he died before I grew up, I might remember these things."
Her book is dedicated to him "in the certain knowledge that, had he lived, by now we, too, would be friends.