'Georgiana' exudes character
18th century aristocrat was Di ahead of her day
by Deirdre Donahue
USA TODAY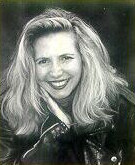 For eight years, Oxford graduate student Amanda Foreman labored away on a biography about an obscure English aristocrat, Georgiana, Duchess of Devonshire, who lived during the licentious reign of George III.
"There was a total lack of interest", says Foreman, 32, while on vacation in the Caribbean.
Today, the critically admired biography is a best seller in Britain and the USA (available from Modern Library, $15.95). An eight-part BBC radio adaptation starring Judi Dench will begin airing April 3 on local NPR stations. The upcoming film adaptation has famous actresses clawing for the role, and Foreman has won Britain's coveted Whitbread prize for biography.
Resplendently reclaimed from history's shadows, Georgiana (pronounced George-ayna) reigns once again. Born Lady Georgiana Spencer in 1757, she married at 17 to the very rich but emotionally stunted Duke of Devonshire, the only man in England not in love with her, newspapers would later claim. Beautiful, very intelligent, a gifted writer, a desperate people-pleaser, Georgiana would transfix the emerging media.
"She was the first woman celebrity who was not a queen, a prostitute or an actress," Foreman says. Georgiana's intricate hairdos, her convoluted love affairs and substantial political influence would make her as closely observed as a later Spencer; Diana, Princess of Wales. (She is Georgiana's great-great-great-great niece and is buried at Althorp Park, Georgiana's childhood home).
Like Diana, Georgiana struggled. As Foreman details, she drank. She took opiates. She gambled to utter ruin. (At one point, her debts totaled the modern equivalent of 6 million pounds). She alternately starved and binged on food. She consulted quack doctors to remedy her infertility. (She gave birth to four children, one illegitimate).
As a graduate student researching 18th century attitudes toward race, Foreman found passages from a letter that Georgiana had written to her lover, Whig politician Charles Grey. "Her letters were so intelligent and self-aware", she says. Foreman changed subjects and drove around England reading more than 10,000 letters that concerned Georgiana. (About 4,000 were written by her; others were either sent to her or discussed her). Some passages had been blacked out by censorious relatives.
As long as one maintained the surface appearance of propriety, avoided divorce and produced male heirs, life among the aristocracy was surprisingly fluid. Lovers were taken; illegitimate children blended in among their siblings. Georgiana and her husband lived for many years with the grifter Lady Elizabeth Foster, who bore the Duke at least one child and possibly two. She also was Georgiana's best friend and probable lover, and went into exile with her when Georgiana bore Grey's daughter.
The Duke would recall them both from exile. He married Foster after Georgiana's death at 49 and then took a new mistress. "She's the Becky Sharp or Eve Harrington" of the story, Foreman says.
Georgiana is not just frothy bedroom hijinks. A close friend of Charles James Fox, Marie Antoinette and the Prince of Wales, Georgiana evolved into a substantial political figure not unlike Pamela Harriman. She also developed a passion for science. "This was a most fantastic world, with extraordinary emotional, intellectual and sexual freedom," Foreman says.
Few who knew Foreman as a teenager would have predicted she would become an admired biographer. "I was never a good student," she says. Her father was the black-listed Hollywood screenwriter Carl Foreman, who wrote High Noon and The Bridge on the River Kwai. (Her mother is British).
Foreman was born in England, lived in Los Angeles for a time, then went to English boarding school at 10. She lives in New York and is working on a history of British volunteers during the American Civil War. It's a good project, she says: "I'm half English, half American"