Interview with Amanda Foreman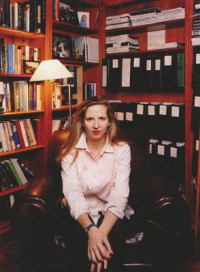 Foreman, 34, rose to fame five years ago when she published her first biography, Georgiana, Duchess of Devonshire, and posed nude for Tatler magazine as part of the publicity campaign. In 1998 Georgiana won the Whitbread Biography Award and sales have since topped 750,000. Her second book, A World on Fire, a study of the British volunteers who fought in the American Civil War, will be published next year.
Photographs by Jens Umbach
Foreman wrote Georgiana, Duchess of Devonshire on a card table in the sitting-room of a shared house in Fulham, west London. "I couldn't write in my bedroom, " she says. "It was too small. There was always a competition between Georgiana and listening to The Bill or whatever was on television." Five years after the book's publication. foreman is considered a glamorous television historian. It is no wonder, then, that she now has her own study – although not in England. She works in a Dickensian-looking brownstone house in Manhattan, New York, where she lives with her British-born husband, who is a banker. Lined with bookshelves, her study is a dark rom, facing a light well.
Foreman writes to the sound of "Helena noise" – the chatter of her 12-month-old daughter – from the bedroom above, which in summer is added to by the whirr of a fan. "The air conditioner doesn't work", she says. She considers her study more than just an office – "it's a comfort zone." It is decorated with a leather armchair, photographs of her husband and her daughter, and a large poster of Foreman at a book reading. She insists it is not a private space, "but no one is allowed to touch anything on the desk. I feel very strongly about that."
Next to her computer is a blue Pilot pen – every chapter is carefully planned out and it only seems to work if she uses this pen. "I know it's a delaying tactic, because if I lose that particular blue Pilot pen I can't start writing, and really if I could get over that one and use any pen things would be much faster." She works from 9.30am until 7pm, when her husband comes home, with a break at lunchtime for an egg salad sandwich with capers and anchovies at her desk. "I'm pregnant again, and obsessed with that type of sandwich. If lumps fall you pick them out of the keyboard".
Writing "is like a day job. I feel guilty about that. Before, I would get up at 6am and sometimes write until 12 at night. But I didn't have a life then. Georgiana was a passion and a surrogate. Now I have a passion without it being a surrogate."
Copyright© The Telegraph