Bitchiness breaks out in world of biography
Calm down, ladies!
Maurice Chittenden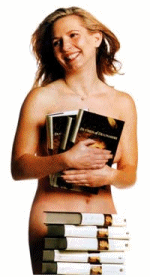 The author Amanda Foreman is being accused of turning the genteel world of historical biography into a playground for glamorous young female writers trying to make a quick killing in the bestseller lists.
Foreman, who posed naked in Tatler magazine behind a pile of books after finding success with her first book Georgiana, Duchess of Devonshire, published in 1998, is blamed for "devaluing the biographer's skill", "doing a disservice to biography in general" and ushering in an era of books commissioned more for the author's looks than their contents.
The barbs come from Kathryn Hughes, a biographer who regularly presents Open Book on Radio 4. In an article entitled The Death of Life Writing, she claimed that much of the "devaluing of the biographer's skill" could be laid at Foreman's door.
Foreman, daughter of the late Carl Foreman, the Hollywood scriptwriter who penned High Noon, The Guns of Navarone and The Bridge on the River Kwai, used her doctoral thesis at Lady Margaret Hall, Oxford, as the basis for Georgiana.
The biography received widespread acclaim and has sold 206,000 copies worldwide. A film version will have its premiere in London this autumn with Keira Knightley in the title role.
Critics claim that Foreman's success has spurred a dramatic shift in the style of biography. Weidenfeld & Nicolson is halving its non-fiction output and critics say the publisher has dumped serious tomes on Field Marshal Haig and Adolf Eichmann in favour of books by Charlotte Church, the singer, and Lesley Ash, the actress.
Last week in The Guardian Hughes bemoaned the fact that the model Katie Price had shifted 335,649 hardback copies of Being Jordan, while Hilary Spurling's highly praised Matisse the Master had sales of 12,451 despite, like Foreman before her, winning the Whitbread biography prize.
Hughes wrote in The Guardian: "By choosing to be photographed nude behind a pile of books, and by allowing her own life story — starry father, tricky adolescence — to become as important as the person she was writing about, Foreman did an accidental disservice to biography in general and to young women biographers in particular."
Hughes, whose most recent book, The Short Life and Long Times of Mrs Beeton, has sold a respectable 28,759 copies, added: "Since Foreman's unprecedented hit, photogenic young women are routinely commissioned to produce biographies of equally camera-ready subjects, regardless of whether they are equipped to do so. The results are often intellectually slight and stylistically poor."
Andrew Roberts, the historian whose books include an award-winning biography of Lord Salisbury, is a friend and admirer of Foreman and pins no blame on her. But last week he, too, attacked the new generation of biographers.
In an article in the Literary Review, he complained about celebrity authors and added: "Worst of all, the entire history brand is being contaminated by publishers commissioning history books from people who seem to know next to nothing about any period other than a tiniest sliver about the one on which they are writing."
Roberts said: "No way am I going to slit my own throat by naming names. I wouldn't pose naked — but solely because the British public is not ready to see a naked Andrew Roberts."
Foreman was said to be seething at Hughes's attack but remained diplomatic. "Biography is changing," she said this weekend. "Biographers are challenging our conception of the genre in extremely exciting ways. In fact, I believe that we could be approaching a new golden age."
A friend said: "How dare Kathryn Hughes say that Amanda won the Whitbread award for Georgiana."
Many of the new biographers credit Foreman as an inspiration. Ishbel Addyman, 31, has been described as the next
Lady Antonia Fraser for her biography of Cyrano de Bergerac, which suggests that the swordsman was a repressed homosexual. It was dismissed by Hughes as lacking natural literary talent.
Last week Addyman, who was at Oxford when her mother bought Georgiana and told her to read it, said: "I am an Amanda admirer. It was completely unnecessary of Kathryn Hughes to attack her the way she has.
"I always wanted to write books but reading Georgiana perhaps contributed to my decision to do biographies."
Jessie Childs, also 31, author of a work on Henry Howard, the Earl of Surrey, entitled Henry VIII's Last Victim, said: "I thought Kathryn Hughes was unduly harsh. As a young historian trying to break through I wouldn't dream of begrudging Amanda Foreman. I think we owe her a big thank you."
Some biographers claim that there is a notable "Amanda effect". Susan Ronald, 55, author of The Pirate Queen: Queen Elizabeth I, said: "One publisher told me, 'You are about 30 years too old to put your picture on the front cover'."
Andrew Lownie, a literary agent and founder of the Biographers' Club, said: "Today publishers want people with a platform and a profile. Never mind whether they are a world expert.
"They should sign up weather girls who are always on the television, are quite pretty and are generally bright."
Copyright© 2008 The Sunday Times