People: July 07, 2008, Amanda Foreman in biography row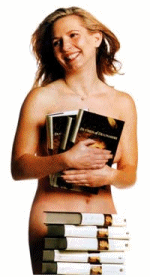 Best-selling author Amanda Foreman (pictured), whose first book Georgiana, Duchess of Devonshire sold over 200,000 copies and is currently being made into a Hollywood movie starring Keira Knightley, has been accused of turning the genteel world of historical biography into a playground for young, opportunistic female writers. Foreman, who once posed naked in front of a pile of books in Tatler magazine, has been denounced by fellow author Kathryn Hughes, who blames her for "devaluing the biographer's skill" and encouraging publishers to commission authors more on the basis of their looks than their ability as writers.
Hughes is a presenter of BBC Radio 4's Open Book whose most recent book, The Short Life and Long Times of Mrs Beaton, notched up respectable reviews and sales. She said: "By choosing to be photographed nude behind a pile of books, and by allowing her own life story – starry father, tricky adolescence – to become as important as the person she was writing about, Foreman did an accidental disservice to the biography in general and to young women biographers in particular" (Foreman's "starry father" was the late Carl Foreman, the Hollywood screenwriter whose credits include High Noon and The Bridge on the River Kwai).
While not supporting her attack on Foreman, historian Andrew Roberts concurs. In the current issue of The Literary Review, he wrote: "The whole history brand is being contaminated by publishers commissioning history books from people who seem to know nothing about any other period than a sliver about the one on which they are writing," He added: "No way am I going to slit my own throat by naming names. I wouldn't pose naked – but solely because the British public is not ready to see a naked Andrew Roberts."
Foreman appears to have taken Hughes's accusations to heart. "Biography is changing," she says. "Biographers are challenging our conception of the genre in extremely exciting ways. In fact I believe we could be approaching a golden age."