Behind the Scenes Telegraph article on the filming of The Duchess
David Gritten talks to cast and crew about the film's key moments
Costume drama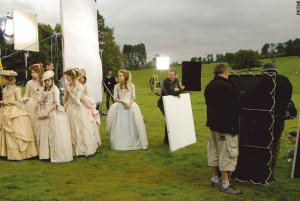 Even when surrounded by lighting crew and other similarly dressed actresses, Keira Knightley seems to command centre stage. It's no accident; her look in each scene was carefully calibrated to produce exactly that effect. 'Keira wore 27 costumes,' said Michael O'Connor, who designed them.This caused huge logistical problems:
'Keira's in pretty much every scene,' the director, Saul Dibb, observed. 'She needed two-hour breaks for costumes and hair. She'd have to be sewn into her dresses.' With one eye on his watch and another on his budget, the producer, Michael Kuhn, found this frustrating. 'Two to three hours for every costume change,' he said. 'Take that out of an eight-hour shooting day, and it's a big hole.' Yet let no one say Knightley did not suffer for her art. 'There was one wig for a scene in Bath that was about two feet high or something ridiculous,' she recalled. 'I couldn't lift my head, it was so heavy.
Halfway through a scene Saul said, "We can't see your eyes any more," and it was because my neck couldn't hold the weight of my own head.' Finally, crew members made a board against which Knightley could lean her shoulders and head between takes so she didn't get neck aches.
The wedding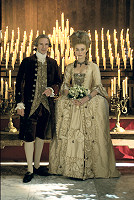 In real life the Duke of Devonshire married Georgiana discreetly. The production designer, Michael Carlin, wanted to stage their wedding in St Paul's Cathedral, but a compromise was needed. 'We decided to go lavish but intimate,' Carlin said. 'So we shot in the chapel at Chatsworth and filled it with candles.' Notably, the couple are posed formally, even stiffly.
To underline that The Duchess is a story with modern resonance, the director, Saul Dibb, kept most of its scenes fluid, with characters and cameras constantly on the move. 'But the scenes with just the duke and Georgiana were deliberately static,' he said. 'I wanted to emphasise the rigidity of their relationship.'
The costume designer, Michael O'Connor, said of her wedding dress, 'It's the second costume you see in the film – a creamy silk with lots of decoration. It's a way of being flamboyant, but not as ostentatious as if she were married in the presence of the king and queen. It's a grown-up dress; it says she's apprehensive about her future.'
The picnic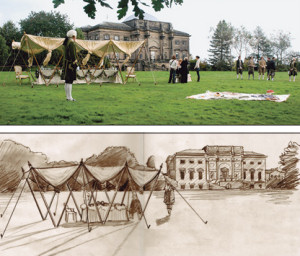 One of the earliest scenes in The Duchess shows a picnic table beneath a canopy in the grounds of an imposing stately home, which can be seen in its formal splendour in the background. The production designer, Michael Carlin, whose drawing for the scene is reproduced here, said, 'Outside, it looks idyllic and youthful. Georgiana is 17, and organising games with her girlfriends and young men, including Charles Grey [played by Dominic Cooper]. I designed that tent to look slightly lyrical.
We didn't mow the lawns for a couple of months to make the setting feel fluffy and carefree. But while that's going on, all these transactions are happening inside the big house. Her mother [played by Charlotte Rampling] and the duke are negotiating terms for his marriage to Georgiana.' Knightley said, 'Right from the start, it's set up that Georgiana loves being around people, and loves being the centre of attention.'
In this scene, the neo-classical symmetry of Kedleston Hall in Derbyshire provides a stern contrast to the teenage Georgiana's playful life, and hints at the world she is about to enter.
The director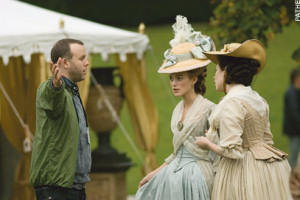 Best-known for the gritty gun-culture drama Bullet Boy (2004), Saul Dibb, 39, is not an obvious director for an expensive period drama. Yet, he insisted, 'It wasn't the costumes that felt powerful, but the story, which focuses on interpersonal relationships. In that sense it didn't feel like a massive leap.' Still, he kept The Duchess real in other ways. 'I wanted a detailed, accurate picture of what these people wore, without wanting to fetishise those details. We also consciously decided to film in real houses. Even if I'd had twice the budget, I wouldn't have had sets built.'
Though he had never directed a major star before, Dibb proved adept at courting Keira Knightley. She recalled, 'I met Saul, liked him a lot, and then he sent me three huge white ostrich feathers with a gold ribbon around them. I was, like, "You're my guy!" I think that was the bit that really, really made me want to do it.' Dibb repaid her by emphasising her star quality: the camera lingers on her face repeatedly. 'Well, it is called The Duchess,' he joked. 'I watched a lot of other films about tragic heroines, like Tess and Breaking the Waves, and they're emotional and intense, too.'
Man and wife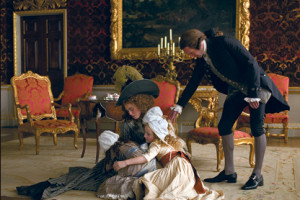 Though there's a 20-year age gap between them, and they had never worked together before, Keira Knightley and Ralph Fiennes enjoyed a happy collaboration on The Duchess. 'I felt in sync with Keira,' Fiennes said. 'She works hard, and she's a real pro. We talked a lot about the relationship between the duke and Georgiana, and we felt the same on how to approach it.
We decided that we couldn't start out indicating too heavily that this was a marriage that would turn out to be unhappy.' Saul Dibb said, 'There was a chemistry between Keira and Ralph, showing a sense of real electricity.'
Michael Kuhn added, 'Keira held her own with one of the best actors we've got. They both took the work incredibly seriously.'
The Duke at home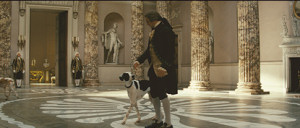 Ralph Fiennes in the extraordinary interior of Holkham Hall, in Norfolk – one of several locations used as substitutes for the duke's London residence, Devonshire House in Piccadilly, which was demolished in the 1920s. He is seen in his element: as Fiennes put it, 'a man of aristocratic certainty about the way things are. He loved his dogs and his life and didn't want it to change.' He added that accounts of the duke suggested 'a more overtly cruel' character than Fiennes plays him. 'I saw him as a man determined to hang on to the status quo. If he had to be tough, he had to be tough.' Fiennes admired the 'inspiring selection of locations' for The Duchess, especially the one pictured here.
'The entrance of Holkham Hall is beautiful. I love the restraint, the stone, the symmetry – and of course, all that suggests the duke's character in The Duchess.' Devonshire House is a composite of locations. 'We used the interiors of five or six houses,' Kuhn said. The problem was trying to suggest its sheer scale. 'This family was by far the richest in the country,' the location manager, Ben Gladstone, noted, and Michael Carlin added, 'Many of these large houses aren't all they're cracked up to be. Most of them have one big recreation space, maybe a reception room. Some of their other spaces aren't particularly impressive.'
The solution was to use the most imposing room in several houses: the duke or Georgiana might walk up the staircase from the entrance at Holkham Hall into a room at Kedleston, then make a detour into a space at Chatsworth. The strategy made the nine-week shooting schedule even harder to achieve. 'A day spent travelling between locations is a day you don't spend filming,' Carlin said.
Hustings
The Naval College at Greenwich was transformed into the hustings scene at Covent Garden, where Georgiana, now a mover and shaker in Whig politics and a celebrity in her own right, introduces her lover Charles Grey, a parliamentary candidate, to a huge crowd.
This was the scene that most moved Amanda Foreman on her frequent visits to the set. 'Greenwich was transformed into the world of the 18th century,' she recalled. 'There were hundreds of extras in costume. It was an amazing sight. And all this was happening because of something I had written. I felt quite tearful.
'Greenwich was a perfect location, Michael Carlin said. 'It's a 360-degree environment. Point the camera anywhere, and it's still in period. We built stalls and timber structures to make it believable as a market.' This was the big scene for Dominic Cooper (The History Boys) as Grey, who wins over the crowd with his rhetoric.
Georgiana and Eliza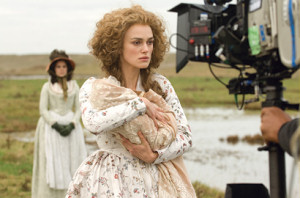 Perhaps the most heartbreaking scene in The Duchess shows Knightley as Georgiana, about to give up her illegitimate baby daughter, Eliza, fathered by Charles Grey, after spending her pregnancy in the company of Bess Foster in seclusion in the countryside. She hands Eliza over to Grey's family at a pre-arranged remote spot. Amanda Foreman admitted that the film handles this incident in Georgiana's life more effectively than her own book.
'When I wrote it, more than 10 years ago, I was unmarried and didn't relate to it. I didn't realise that this was the pivotal tragedy of her life. Only coming back to it, having had five children, did I realise I missed something.' Knightley's floral dress is significant here, said the costume designer, Michael O'Connor. 'We usually see her in silks and finery.
From the moment Georgiana and Bess leave Devonshire House they become country girls together. So I designed cotton-like dresses that would enable them to fit into a rural setting.'
Copyright© 2008 Telegraph Media Group Limited