Ancient Romans ate a pungent version, but the modern egg-based spread was created by an 18th-century French chef.
July 9, 2020
I can't imagine a summer picnic without mayonnaise—in the potato salad, the veggie dips, the coleslaw, and yes, even on the french fries. It feels like a great dollop of pure Americana in a creamy, satisfying sort of way. But like a lot of what makes our country so successful, mayonnaise originally came from somewhere else.
Where, exactly, is one of those food disputes that will never be resolved, along with the true origins of baklava pastry, hummus and the pisco sour cocktail. In all likelihood, the earliest version of mayonnaise was an ancient Roman concoction of garlic and olive oil, much praised for its medicinal properties by Pliny the Elder in his first-century encyclopedia "Naturalis Historia." This strong-tasting, aioli-like proto-mayonnaise remained a southern Mediterranean specialty for millennia.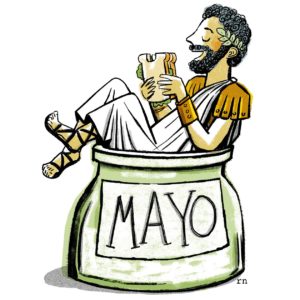 But most historians believe that modern mayonnaise was born in 1756 in the port city of Mahon, in the Balearic Islands off the coast of Spain. At the start of the Seven Years' War between France and Britain, the French navy, led by the Duc de Richelieu, smashed Admiral Byng's poorly armed fleet at the Battle of Minorca. (Byng was subsequently executed for not trying hard enough.) While preparing the fish course for Richelieu's victory dinner, his chef coped with the lack of cream on the island by ingeniously substituting a goo of eggs mixed with oil and garlic.
The anonymous cook took the recipe for "mahonnaise" back to France, where it was vastly improved by Marie-Antoine Careme, the founder of haute cuisine. Careme realized that whisking rather than simply stirring the mixture created a soft emulsion that could be used in any number of dishes, from the savory to the sweet.
It wasn't just the French who fell for Careme's version. Mayonnaise blended easily with local cuisines, evolving into tartar sauce in Eastern Europe, remoulades in the Baltic countries and salad dressing in Britain. By 1838, the menu at the iconic New York restaurant Delmonico's featured lobster mayonnaise as a signature dish.
All that whisking, however, made mayonnaise too laborious for home cooks until the invention of the mechanical eggbeater, first patented by the Black inventor Willis Johnson, of Cincinnati, Ohio, in 1884. "Try it once," gushed Good Housekeeping magazine in 1889, "and you'll never go back to the old way as long as you live."
Making mayonnaise was one thing, preserving it quite another, since the raw egg made it spoil quickly. The conundrum was finally solved in 1912 by Richard Hellmann, a German-American deli owner in New York. By using his own trucks and factories, Hellmann was able to manufacture and transport mayonnaise faster. And in a revolutionary move, he designed the distinctive wide-necked Hellmann's jar, encouraging liberal slatherings of mayo and thereby speeding up consumption.
Five years later, Eugenia Duke of North Carolina created Duke's mayonnaise, which is eggier and has no sugar. The two brands are still dueling it out. But when it comes to eating, there are no winners and losers in the mayo department, just 14 grams of fat and 103 delicious calories per tablespoon.