George IV by Christopher Hibbert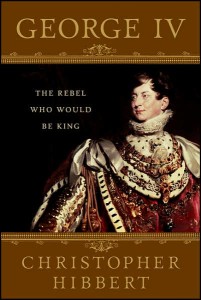 Foreword
The prevailing view of George IV was entirely negative until Hibbert's sympathetic biography revealed a gifted individual whose harsh upbringing and personal weaknesses conspired to ruin his potential. It was also the prince's misfortune to fall into the hands of the brilliant but dissolute Whigs. The Duchess of Devonshire, Charles James Fox, and Richard Brinsley Sheridan were indeed a "School for Scandal." But while they eventually grew into sadder and wiser middle-age, the prince never matured past adolescence.
George IV's pathological self-indulgence turned him into a buffoon, blinding critics then and now to his contribution towards Britain's cultural heritage. Many of London's most beautiful buildings owe their genesis to this much maligned king. As Hibbert argues, no other monarch cared so passionately about art and architecture.
Eschewing the obvious for the nuanced, Hibbert rescued George IV from the clowns' corner to restore him to his true, tragic glory.
Amanda Foreman
Amazon | Amazon UK | Barnes & Noble | IndieBound
THE DEFINITIVE BIOGRAPHY OF ENGLAND'S REBEL KING
"Christopher Hibber's George IV is at once soundly based on research in the Royal Archives at Windsor and a rollicking good read. I found it invaluable when I was researching The Unruly Queen, my life of George IV's wife Queen Caroline, and I recommend it to anyone interested in George IV's flamboyant and outrageous personality."
Flora Fraser, author of Princesses and The Unruly Queen
"This is one of the most satisfying biographies of an English king: it is ample, convincing and well written."
Times Literary Supplement
In this definitive biography of George IV, Christopher Hibbert delivers a superbly detailed picture of the life and times of England's rebel king. From his exorbitant spending on his homes, his clothes, his women; throughout his patronage of the arts; his "illegal" marriage to Catholic Mrs. Fitzherbert; and lesser known facts such as his generous charity donations, George IV led a rich and enchanting life. Hibbert also revives George IV's many witty one-liners, including one he uttered when he met his bride-to-be (Caroline of Brunswick) for the first time: "Harris, I am not well, fetch me a brandy".
Christopher Hibbert, " a pearl of biographers" (New Statesman), was born in 1924 and educated at Radley and Oxford. He is the beloved author of many highly acclaimed books, including The Rise and Fall of the House of Medici, The English: A Social History, and Cavaliers and Roundheads. He lives in Oxfordshire, United Kingdom.
Amanda Foreman is the author of The New York Times best-seller Georgiana: Duchess of Devonshire, which won the Whitbread Prize for Best Biography, and is currently writing about the American Civil War. She lives in New York.
Copyright© 2008 Christopher Hibbert