From ancient Rome to modern London, great structures like Notre Dame have fallen and been built again
The Wall Street Journal, May 2, 2019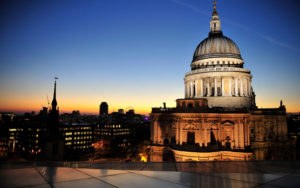 A disaster like the Notre Dame cathedral fire is as much a tragedy of the heart as it is a loss to architecture. But fortunately, unlike most love affairs, a building can be resurrected. In fact, throughout history communities have gone to remarkable lengths to rebuild monuments of sacred or national importance.
There is no shortage of inspirational examples of beloved buildings that have risen from the ashes. The Second Temple was built in Jerusalem in 515 B.C. following the destruction of the First by King Nebuchadnezzar II of Babylonia in 586 B.C.; Dresden's Baroque Frauenkirche was faithfully rebuilt in 2005, after being destroyed by bombs in 1945.
Often the new structures are exact replicas, as with Venice and Barcelona's opera houses, La Fenice and Gran Teatre del Liceu, both of which were rebuilt after suffering devastating fires in the 1990s. If France decides to rebuild Notre Dame according to the principle "as it was, where it was," the skill and technology aren't lacking.
In other cases, however, disasters have allowed for beloved landmarks to be reimagined. The Great Fire of Rome in 64 A.D. led to a revolution in architectural styles and techniques. After Hagia Sophia cathedral was torched during riots in Constantinople in 532, the Byzantine Emperor Justinian asked his architects Anthemius and Isidore to build something bold and impressive. It was risky to change such a renowned symbol of the Eastern Roman Empire; moreover, for security and financial reasons, the work had to be completed in just six years. Still, the result dazzled Justinian, who exclaimed when he saw it, ''Solomon, I have outdone thee." Almost a thousand years later, following Constantinople's fall to the Turks in 1453, Sultan Mehmet II had a similar reaction and ordered Hagia Sophia to be turned into a mosque rather than destroyed.
Sir Christopher Wren, who rebuilt St. Paul's Cathedral in London, was not so lucky in the reactions to his creation. The Great Fire of 1666 had left the medieval church in ruins, but there was little appetite for an innovative reconstruction and no money in the Treasury to pay for it. Wren endured setbacks at every turn, including a chronic shortage of stone. At one point, Parliament suspended half his salary in protest at the slowness of the work, which took almost three decades and spanned the reigns of five monarchs.
The reason for the delay became clear after the finished building was revealed to the public. Inspired by drawings of Hagia Sophia, Wren had ignored the approved design for a traditional reconstruction and quietly opted for a more experimental approach. Ironically, many of his contemporaries were appalled by the now iconic great dome, especially the Protestant clergy, who deemed it too foreign and Catholic-looking. Yet Wren's vision has endured. During the German bombing of London in World War II, St. Paul's was the one building that Winston Churchill declared must be saved at all costs.
It is never easy deciding how to draw the line between history and modernity, particularly when dealing with the loss of an architectural masterpiece. There isn't always a right answer, but it may help to remember Churchill's words: "We shape our buildings and afterwards our buildings shape us."