Daily Mail Online: Carey Mulligan lets her natural beauty shine through as she wears minimal make-up and a simple black ensemble to celebrate new movie Far From The Madding Crowd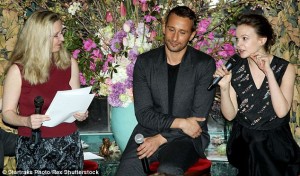 By Clare Swanson
While she's often celebrated for her beauty, Carey Mulligan appeared intent on keeping things low-key when she stepped out in New York City for a high-profile event on Wednesday.
The 29-year-old actress attended a special luncheon to celebrate her upcoming movie, Far From The Madding Crowd, and it was the sheer simplicity of her look that drew admiration. With her dark brown tresses styled in a neat bun, the British screen star let her natural beauty shine through as she wore make-up for her moment in the spotlight.
She also kept her ensemble equally simple yet eye-catching, stepping out in an embellished sleeveless plunging black top, which she teamed with a black skirt and matching heels.
Carey – married to Mumford & Sons frontman Marcus Mumford – mingled with a host of special guests at the bash, including her co-star Matthias Schoenaerts and veteran actress Ellen Burstyn.
In a new interview with Vogue, London-born Carey revealed that she finds it easier be successful in a range of roles because fans can't project details about her personal life onto her characters.
'I have always felt that the less people know about me, the better,' she said. 'The more similar you look job to job, the more they relate to you from your previous roles. That's why I've done loads of really stupid things to my hair in the past to try to not look the same.'
She also noted another star who's managed to adeptly separate her private and professional lives, Marion Cotillard, saying: 'She does really cool films and doesn't engage with the stupid side of it. And she's private – I don't know anything about her, and I quite like that.'
Now starring in Broadway's Skylight in New York City, Carey is happy to have the opportunity to be even more private.
She said that she prefers doing theatre in the Big Apple to London's West End because there is less risk of someone she knows being in the audience.
But that hasn't stopped celebrity fans from reaching out to congratulate her on the critically acclaimed drama 'I got flowers from Helen Mirren, which I thought was the nicest thing ever!' she said backstage at the show, also starring Bill Nighy.