I have interviewed dozens of female politicians in my time, and the thing that stands out is how different they are from other women. In that one respect they are just like male politicians who, when you meet them, come across as a race apart from ordinary mortals. First and foremost, they are doers. There's none of that second-guessing, procrastinating, or introspection that holds the rest of us back. Obstacles only make them try harder. To a woman (or man) they radiate a special combination of ego and energy that seems to propel them faster and higher than everyone else.
In the United States, there is no better example of this all-conquering breed than Nancy Pelosi, the Democratic Leader of the House of Representatives, the first female Speaker of the House and the highest-ranking political woman in American history. As she strides towards my table in the restaurant of the Regency Hotel in Manhattan, immaculately presented in powder blue, smile at the ready, it is like being drawn into a powerful tractor beam. When she speaks she's so loud and full of purpose, it's mesmerizing. Despite her slight stature, Pelosi has a diaphragm that could hit you at a thousand paces.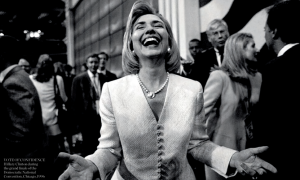 In 1974, the possibility that a woman could lead one of Britain's political parties, let alone become Prime Minister, seemed so remote that bookmakers set the odds at 50-1. Since the woman in question was Margaret Thatcher, those brave enough to gamble a large wager walked away with a fortune.
Today, when there are 19 female world leaders including Germany's Angela Merkel, Brazil's Dilma Rousseff, and South Korea's Park Geun-hye, the shock and awe provoked by Thatcher's election victory seems almost quaint. Which makes it all the more surprising that the two countries with the world's largest economies – America and China – have yet to follow suit. There have been more than 400 US cabinet secretaries since women won the vote in 1920, but only 27 have been female. As for China, no woman has ever been admitted to the ruling Politburo Standing Committee.
For America, at least, that anomaly could be about to change with the allbut-declared candidacy of Hillary Clinton for the White House race in 2016. The timing of her new book – a memoir of her years as the US Secretary of State – is surely no coincidence. For Clinton to secure the prize that eluded her in 2008, she must first persuade Americans that she is somehow different from the woman they rejected six yeas ago.