On Oct. 26, imprisoned WSJ reporter Evan Gershkovich will turn 32. Since ancient times, birthdays have been occasions for poems, letters and expressions of solidarity.
October 13, 2023
Wall Street Journal reporter Evan Gershkovich turns 32 on Oct. 26. This year he will be spending his birthday in Lefortovo prison in Moscow, a detention center for high-profile and political prisoners. He has been there for the past six months, accused of espionage—a charge vehemently denied by the U.S. government and The Journal.
Despite the extreme restrictions placed on Lefortovo prisoners, it is still possible to send Evan messages of support via the U.S. Embassy in Moscow or the freegershkovich.com website, like a birthday card, to let him know that the world cares.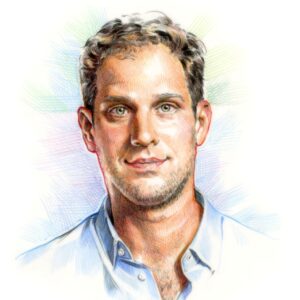 Birthday cards are so cheap and plentiful it is easy to miss their cultural value. They are the modern iteration of a literary tradition that goes back at least to Roman times. Poets were especially given to composing birthday odes to their friends and patrons. The Augustan poet Horace dedicated many of his poems to Maecenas, whose birthday, he wrote, "is almost more sacred to me than that of my own birth."
The custom of birthday salutations petered out along with much else during the Dark Ages but was revived with the spread of mass literacy. Jane Austen would write to her siblings on their birthdays, wishing them the customary "joy," but toward the end of her life she began to experiment with the form. In 1817, she sent her three-year-old niece Cassy a special birthday letter written in reverse spelling, beginning with "Ym raed Yssac."
Austen's sense that a birthday letter ought to be unique coincided with a technological race in the printing industry. One of the first people to realize the commercial potential of greeting cards was Louis Prang, a German immigrant in Boston, who began selling printed cards in 1856. Holiday cards were an instant success, but birthday cards were less popular until World War I, when many American families had a relative fighting overseas.
Demand for birthday cards stayed high after the war, as did the importance attached to them. King George V seized on their popularity to introduce the royal tradition of sending every British citizen who reaches 100 a congratulatory birthday card. In 1926, to show how much they appreciated the gift of U.S. aid, more than 5 million Poles signed a 30,000-page birthday card commemorating America's 150th anniversary.
During the Cold War, the symbolism of the birthday card became a power in itself. In 1984, Illinois Rep. John Edward Porter and other members of Congress sent birthday cards to Mart Niklus, an Estonian civil rights campaigner imprisoned in the U.S.S.R. By coincidence, the Soviets released Niklus in July 1988, the same month that Nelson Mandela received more than 50,000 cards for his 70th birthday. The frustrated South African prison authorities allowed him to have 12 of them. But the writing was on the wall, as it were, and Mandela was released from prison two years later.
Rep. Porter didn't know what effect his birthday card to Niklus would have. "I doubt he will get them," he told the House. "Yet by sending these birthday cards…we let the Soviet officials know that we will not forget him."
I am sending my birthday card to Evan in the same spirit.