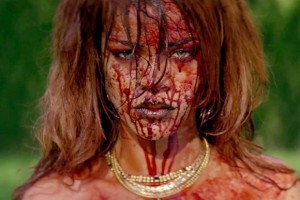 Let me tell you a tale of two sex tapes. One is a seven-minute music video called Bitch Better Have My Money, starring Rihanna. It was released earlier this month and has been viewed more than 22m times. The other is, well, I'll get to that in a minute. It is Rihanna's that is the controversy du jour, so let's concentrate on her first.
BBHMM, as the video is known, has a simple plot. The singer's character decides to take revenge on the man who has embezzled her money. She enlists the help of three friends to kidnap his wife and hold her to ransom until he agrees to cough up the missing dough. But the no-good, lying, cheating husband prefers to let his wife rot in the hands of her captors while he lives happily off his ill-gotten gains. However, he has not reckoned on Rihanna, who succeeds in both exacting her personal revenge and getting her money back.
Anyone who was not born yesterday will recognise the premise of Elmore Leonard's 1978 novel The Switch, the 1986 black comedy Ruthless People and the 2013 crime caper Life of Crime, starring Jennifer Aniston. But BBHMM is no mindless rehash of an old favourite — Rihanna's version takes the trope of the kidnapped-wife-in-the-boot to a whole new level of candied cruelty.
The wife in question is strictly fodder for the Occupy Wall Street crowd: thin, pretty, blonde and expensively clad. Every mincing step she takes is a signpost that says "she has it coming". Having put the audience in the right frame of mind, Rihanna spends the next five minutes humiliating and torturing the woman.