ABOUT THE BOOK
BUY THE BOOK
REVIEWS
MULTIMEDIA
PHOTOS
WINNER OF THE 1998 WHITBREAD BIOGRAPHY OF THE YEAR AWARD
FINALIST FOR THE GUARDIAN FIRST BOOK AWARD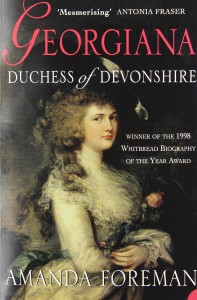 As one of the most flamboyant and influential women of the late 18th century, Georgiana, Duchess of Devonshire was an icon of her time. Born Lady Georgiana Spencer, she married the fifth Duke of Devonshire in 1774. She was thrust into public life at the age of sixteen, unprepared for the pressures that quickly followed and unsupported in a cold and loveless marriage. Though most of her contemporaries adored her because she seemed so natural and vibrant, only a few knew how tormented she was by self-doubt and loneliness. Georgiana was not content to lead the fashionable set nor merely to host soirées for the Whig party, instead she became an adept political campaigner and negotiator, respected by the Whigs and feared by her adversaries. She was the first woman to conduct a modern electoral campaign, going out into the streets to persuade ordinary people to vote for the Whigs. She took advantage of the country's rapidly expanding newspaper trade to increase the popularity of the Whig party and succeeded in turning herself into a national celebrity. Georgiana was a patron of the arts, a novelist and writer, an amateur scientist and a musician. It was her tragedy that these successes were overshadowed by private and public misfortune. Ambitious for herself and her party, Georgiana was continually frustrated by restrictions imposed on Eighteenth-Century women. She was also a woman who needed to be loved, but the two people whom she loved most – Charles Grey and the Duke of Devonshire's mistress Lady Elizabeth Foster – proved incapable of reciprocating her feelings in full measure. Georgiana's unhappiness expressed itself destructively in her addiction to gambling, her early eating disorders, and her deliberate courting of risk. Her battle to overcome her problems was an achievement equal to the triumphs she enjoyed in her public life.
Cover painting of The Duchess of Devonshire by Thomas Gainsborough (1727-1788) from the Devonshire Collection, Chatsworth; produced by permission of the Chatsworth Settlement Trustees.
"Well written, extensively researched and highly readable"
Stella Tillyard, Daily Mail
"Not only a pungent, intimate blend of biography and history, but a provocative contribution to our understanding of women of the past"
Jenny Uglow, Independent
"Georgiana Devonshire was much the most fascinating woman of the age, and Foreman has written a biography to match her"
Ian Gilmour, London Review of Books
"Sumptuously produced, accurate and eminently readable"
Economist
"Georgiana bursts from the pages of Amanda Foreman's dazzling biography like the force of nature she undoubtedly was passionate, political, addicted to gambling, and drunk on life. This is a stunning book about an astonishing woman."
Simon Schama
"A most impressive debut. I predict a great future for Amanda Foreman. She is a scholar who matches her learning to a sense of adventure and writes with engaging vitality."
Michael Holroyd
"A mesmerizing read …. The charm of Amanda Foreman's Georgiana is that it gives you all the fascinating detail you want …. and is at the same time a serious, scholarly work, based on exhaustive archival research."
Antonia Fraser, Literary Review
"Stunning historical research plus feminine acuity yield a vivid portrait of a shrewd, seductive ancestor of Princess Diana's in an age before democracy or contraception."
Brenda Maddox, author of Yeats's Ghosts and Nora: The Real Life of Molly Bloom
"I put this book down entranced by the woman. This is an outstanding debut by a young biographer fully in control of her sources, and with an easy, elegant writing style. She tells a tale that calls not only for our admiration but for our compassion."
Roy Strong, London Sunday Times
"This is an accomplished and well written biography, remarkably mature for a first effort; diligently researched and entertainingly presented. Amanda Foreman is a writer to watch and one from whom much can be expected."
Daily Telegraph
The Sunday Times – 18 May 1998
Hostess with the mostest
By Roy Strong
"Outstanding . . . a young biographer fully in control of her sources, and with an easy and elegant writing style."
The Daily Telegraph – May 1998
Legendarily extravagant
By Philip Ziegler
"This is an accomplished and well-written biography; remarkably mature for a first effort; diligently researched and entertainingly presented. Amanda Foreman is a writer to watch and one from whom much can be expected."
The Evening Standard – May 1998
Georgiana, Duchess of Devonshire
By Roy Porter
"Georgiana is a capital biography and a splendid debut for Ms Foreman. Her writing has strength and pace, and her portrayal of the Georgian queen of hearts carries a conviction deriving from deep research into many a country-house archive. What a pity that Victorian prudes destroyed most of Georgiana's love letters and cancelled out other intimate passages in the blackest of black inks. The evident shockingness of this courageous lady is commendation indeed of this engaging study."
BBC Radio 4  – 30 July 2014
The Georgians: Restraint, Revolution and Reform: Part 2
In the final part of a series examining the political impact of the Georgian era, Amanda Foreman looks at politics on the ground as she considers the structures of British life that created both control and freedom. She asks why Britain experienced political evolution, not revolution.
BBC Radio 4 – 23 July 2014
The Georgians: Restraint, Revolution and Reform: Part 1
Amanda Foreman examines the formative years of British politics when the most important structures of British life – still valued and recognised today – were established in the shadow of revolution.
Secrets of the Manor House (PBS) – 14 July 2013
The Secrets of Chatsworth
In its 500-year history, Chatsworth has been home to some notable inhabitants, among them the 5th Duke of Devonshire, his wife, Lady Georgiana Spencer, and Lady Elizabeth Foster, who lived together in a ménage à trois. King Edward VII enjoyed shooting parties on the estate and was often entertained by Duchess Louisa, one of Britain's foremost political hostesses.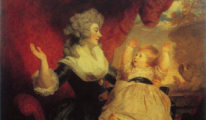 Georgiana, Duchess of Devonshire and Lady Georgiana Cavendish, by Joshua Reynolds.
Georgiana gave birth to Lady Georgiana. 'Little G', at Devonshire House in the summer of 1783. In 1804, Little G, by then a mother of two children, told Georgiana, 'one cannot know until one has separated from you how different you are from everyone else, how superior to all mothers, even good ones.'

John 1st Earl Spencer, by Thomas Gainsborough, c.1763.
Lord Spencer 'seems to be the man whose values few people know',' wrote Viscount Palmerston. "The bright side of his character appears in private and the dark side in public."

Georgiana, Countess Spencer, by Pompeo Batoni c.1764.
Georgiana was waiting disconsolately in Amsterdam for her parents to return when this portarit was painted. It shows Lady Spencer surrounded by her interests: books, a musical instrument and classical ruins.

Lady Elizabeth Foster, 'Bess', by Reynolds, 1787
Painted after she had been with the Devonshires for six years.
Fifth Duke of Devonshire, by Pompeo Batoni.
The trip abroad failed to improve his manners: 'To be sure the jewel has not been well polished,' wrote Mrs Delaney. 'Had he fallen under the tuition of the late Lord Chesterfield he might have possessed les graces, but at present only that of his dukedom belongs to him.'